Getting Your Office Ready For Painting: Working With A Commercial Painting Contractor
Mar 16
Are you looking to transform your office building without breaking the bank? A fresh coat of paint is a quick and affordable way to give any space an instant lift. But, before you dive in, it's important to take the necessary steps to ensure a successful outcome. Partnering with a reliable commercial painting contractor is crucial to ensuring the job is done right and on schedule. In this blog post, we'll guide you through the process of preparing your office building for painting and share tips on how to achieve a flawless finish. By the end, you'll have all the information you need to make your office look brand new.
Planning The Job
When it comes to planning a painting job, the most important step is to get accurate job estimates from potential contractors. It's essential to select the right contractor who can do the job within your budget and timeline. This means researching any references or reviews of their work, as well as confirming that they are insured and licensed. Once you have found a suitable contractor, you need to prepare your workspace for the job. This involves cleaning walls, cabinets, and other surfaces before the start of painting, as well as removing furniture and covering any items that may be damaged during the painting process. Finally, budgeting costs is an important part of planning a painting job. Make sure that you agree on payment terms with your contractor in advance, so that there are no surprises when it comes time to pay for the finished product. With careful planning and preparation, you can ensure a successful outcome for your project. Now all that remains is preparing the space for painting.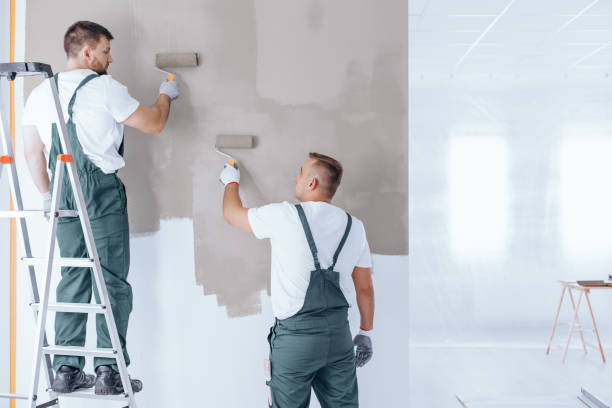 Preparing The Space
Before any painting can begin, the workspace must be properly prepared. This means making sure that walls, floors, and any other surfaces are clean so that the paint will adhere properly. Walls should be wiped down with a damp cloth to remove dust and dirt before priming or painting. Floors should be vacuumed or swept to ensure that no debris gets in the way of the painting process. Any furniture should also be removed and covered with plastic sheets to protect it from paint splatter. Additionally, all electrical outlets and switches should be covered to keep them safe during the painting process.
Once everything is ready for painting, it's time to start prepping the walls themselves. This includes sanding rough spots on the wall, filling any holes or gaps with putty or spackling, and priming any new drywall before applying paint. It's important to take extra care when preparing these areas as this affects how well the paint adheres to the wall once it's applied.
With proper preparation of both the space and walls, you can ensure a successful outcome for your project. This helps create a blank canvas for your contractor to work with while ensuring that every detail is taken care of ahead of time. Taking these steps prior to hiring a professional contractor ensures that your office looks its best when they arrive onsite ready to start their work.
Choosing A Professional Contractor
Once the space is ready for painting, it's time to consider hiring a professional commercial painting contractor. Working with an experienced painting contractor provides peace of mind that the job will be done right and on time. A licensed painting company can also provide unique services to fit your specific project needs. From interior and exterior painting to faux finishes and wallpaper installation, they have the expertise to handle any job.
Choosing the right commercial painting services for your office is an important decision. Ask friends or family for recommendations, research local businesses online, or contact a trade association for referrals. When researching potential contractors, make sure they are licensed and insured and that they provide references from previous projects. This allows you to ensure that you are working with a reliable, knowledgeable company who will get the job done correctly and in a timely manner.
Once you've chosen a professional painting services provider, you can begin discussing project requirements such as timeline, budget, materials needed, etc., so that everyone is on the same page before any work begins. With clear communication between both parties throughout the process, your office will soon be looking its best with beautiful results that last!
Estimating Costs And Setting A Budget
Preparing for a commercial painting job can be as daunting as it is exciting. Estimating costs and setting a budget are critical first steps. With the help of an experienced painting contractor, you'll have peace of mind that the project will be completed within your budget and timeline requirements. Here are some tips to help you get started:
First, obtain an estimate from your contractor. Professional painting contractors should provide detailed estimates that outline the scope of work, materials needed, and labor costs associated with the project. Make sure to ask questions if anything is unclear so that you understand what you're paying for before signing any contracts.
Second, factor in additional expenses like supplies, equipment rental fees, permit fees, etc. These items can add up quickly so make sure they're included in your total budget. Also consider any additional services that may come up during the course of the job such as touch-ups or repairs down the line.
Finally, once you have all of these details worked out with your contractor and a realistic budget set in place, it's time to move forward with the project in a safe manner.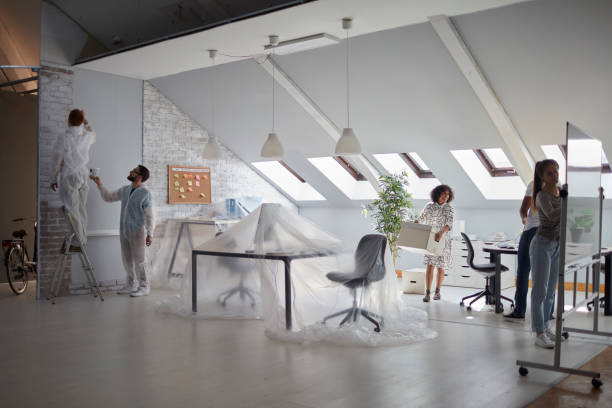 Safety Considerations For Commercial Paint Projects
Safety is a top priority when it comes to commercial painting projects. Painting contractors should have their own safety protocols and procedures in place for all jobs, especially when working in an office environment. It is important to be aware of the potential hazards associated with paint, chemicals, ladders, scaffolding, and other equipment used during a project. Here are some key safety considerations for commercial painting projects:
First, ensure that your contractor is up-to-date on their safety certifications and permits. Ask your contractor about any specific safety requirements they may have or contact local authorities for more information. This will help ensure the job site is compliant with applicable laws and regulations.
Second, ask your contractor about the type of protective gear they use while on the job such as masks, gloves, goggles, and coveralls. This can help protect you from hazardous fumes and debris that may be released during the project. Also make sure any other employees in the office area are protected by proper ventilation or air filtration systems if needed.
Finally, discuss any additional measures that may need to be taken to keep everyone safe during the project such as closing off certain areas or posting signage warning of possible dangers. With these steps taken beforehand, you can rest assured that your commercial painting project will be completed safely and securely.
Now that safety concerns have been addressed it's time to focus on completing the project on-time and on-budget.
Completing The Project On-Time And On-Budget
The keys to a successful commercial painting project are planning and preparation. When it comes to getting the job done on-time and on-budget, selecting the right contractor for the job is essential. As with any task, it takes time and effort to find a qualified contractor who can meet your needs.
When selecting a commercial painting contractor, it's important to ensure they have experience in similar projects, as well as up-to-date certifications and insurance. It's also beneficial to research their reputation by asking past customers about their experiences with the company or reading online reviews. This will help you determine if they are trustworthy and reliable.
Once you've found the right contractor, be sure to have clear expectations of what is expected throughout the project. Discuss timelines, budget restrictions, materials needed, and any other details that need addressing prior to beginning work. By doing this upfront work you can help ensure project completion goes smoothly without any unexpected surprises along the way.
A successful commercial painting project requires careful attention to detail from both you and your chosen contractor. With safety measures in place and an experienced professional at your side, you can feel confident that your office will be looking great in no time!
Conclusion
Painting your office space is an excellent way to give it a fresh, modern look. By carefully planning the job and taking the time to choose a professional contractor, you can ensure that your project will be completed on-time and on-budget. In addition, by considering safety considerations and following the contractor's instructions, you can rest assured knowing that your commercial painting project will turn out just as you envisioned it.
Overall, with the right preparation, working with a commercial painting contractor for your office space makeover can be a rewarding experience. Not only will it save you time and money in the long run but also it will give you peace of mind that the job was done properly and safely. Lastly, don't forget to take a moment to admire how beautiful your newly painted office space looks - it's sure to bring forth a feeling of nostalgia in all those who visit!
If you're looking for more ideas about this topic, feel free to read this blog post from Patch and Paint Pros.