So you're thinking about painting the outside of your house. It's a big job, but you might be able to do it yourself. Is that correct? Here are some things to think about when deciding whether to do it yourself or hire a professional for exterior house paint application.
When Should You Do It Yourself?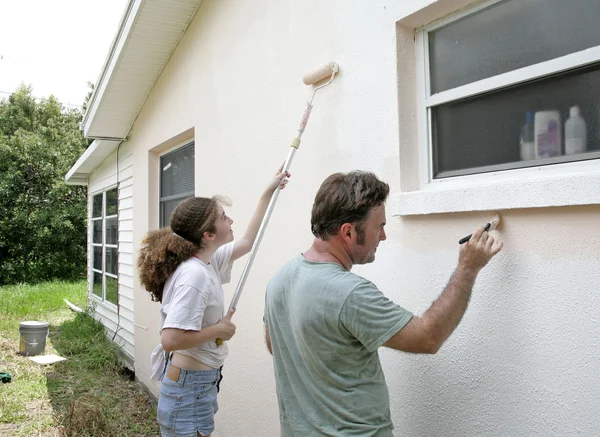 When You Have Exterior Painting Experience - If you've previously painted the exterior of a house, you might be able to do it again. Painting does not require rocket science, but it does necessitate some knowledge and skill. If you intend to do it yourself, it is critical that you understand the fundamentals of selecting the right paint color and dealing with loose paint.
When the Task Isn't Too Large - If your house is small or you only need to paint one section of it, DIY exterior house painting may be a viable option. When working on a DIY project like exterior home painting, you must be familiar with the use of a paint roller, paint, and a putty knife.
When You Have the Opportunity - Exterior house painting is a major undertaking that will take several days (if not weeks) to complete. Before you begin your exterior house painting, make sure you have enough time. Remember that you must still allow enough time for the fresh coat of paint to dry before moving on to the next step of exterior painting.
When You Have a Limited Budget- It can be costly to hire a professional painter. If you're on a tight budget, you might consider doing your own painting. While doing it yourself can save you money, it can also cost you a lot more if you make mistakes along the way.
Your House's Exterior Is in Good Shape- If your house's exterior is in good shape and doesn't have any cracks, holes, or other damages, painting it should be relatively simple. However, if there are any damages, you should hire a professional to repair them before painting.
When to Hire a Professional
If You Have No Experience Painting a Home's Exterior - If you've never painted the exterior of a home before, it's probably best to hire a professional. They have the necessary experience and knowledge to complete the task successfully. This will ensure that you have better  curb appeal than before.
If the Job Is Too Complicated - If your home is large or you need to paint multiple sections, you should probably hire a professional. They have the necessary manpower and resources to complete the task quickly and efficiently.
If You're Too Busy - If you don't have the time to devote to painting the exterior of your home, it's probably best to hire a professional. They can complete the task while you focus on other things. Keep in mind that exterior house painting takes time. So make sure you have enough of it to get the best results.
Landscaping Will Be A Difficulty- If you have a lot of landscaping around your house, painting it yourself may be difficult. Hiring a professional will ensure that the job is completed without harming your plants or flowers. They can strategically place drop cloths to achieve the best results when it comes to exterior painting.
Your Home's Exterior Needs Repairs - If the exterior of your home is in poor condition, it's probably best to hire a professional. They can repair and paint your house all at once.
Hiring a professional to paint the exterior of your home is a big decision. However, if you take the time to think about all of your options, you will be able to make the best decision for your home. Should you do it on your own or hire any professional painter in your area? You have a choice.
Conclusion
Painting the outside of your house can be a physically demanding and time-consuming task. But it doesn't have to be that way with the right preparation and knowledge. If you decide to tackle this project on your own, make sure you do your research and use high-quality materials. You can also check out the blogs post below to learn more ways to help you decide whether to do your exterior house painting or hire a professional instead: https://harmonypaintingdenver.com/diy-exterior-house-painting-when-to-do-it-yourself-and-when-to-hire-a-pro/.